By Rachel Bubis
Sara Gasbarra is the founder and "lead garden girl" of Verdura, a full service garden design company that cultivates culinary gardens for chefs, restaurants, and hotels. She services hotels and restaurants across the Southeast, including Park Hyatt Chicago, Cindy's Rooftop at Chicago Athletic Association Hotel, Palmer House Hilton and Floriole Cafe and Bakery in Chicago, and Bastion, Henrietta Red and Nicky's Coal Fired in Nashville. Rachel spoke with Gasbarra about living and working in Chicago and Nashville, the importance of social media in the culinary world, and some of her favorite heirloom plant varieties.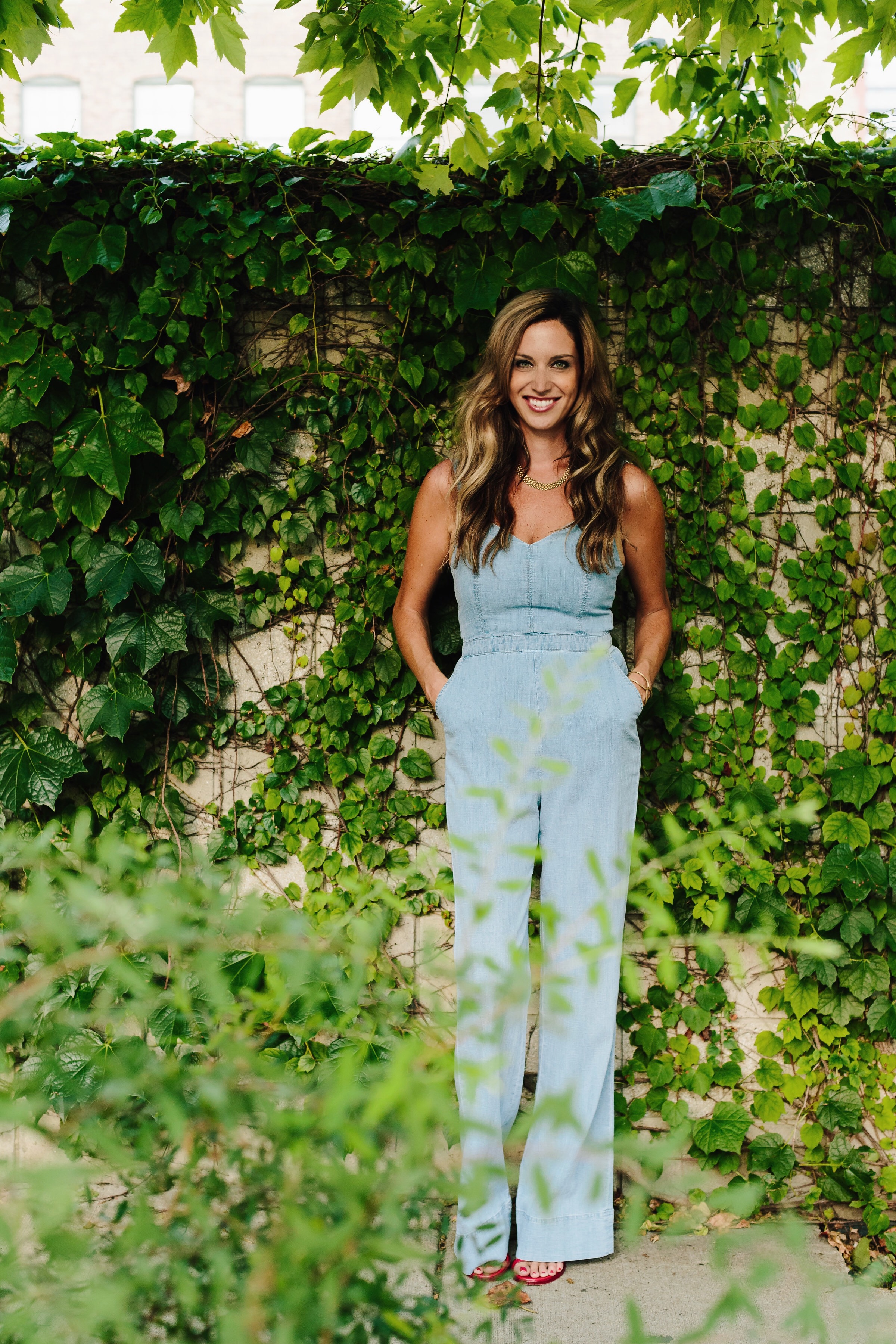 RB: How did you get into Culinary Garden Design and start Verdura?
SG: I'm originally from Chicago and spent some time volunteering for Green City Market, the city's premiere farmers' market. One of the market's educational programs is a 5,000 square foot vegetable garden (The Edible Garden) which is open to the public and hosts tours for school groups from spring through late fall. I started volunteering my time at the garden in 2008, bringing some basic gardening experience I had gained from helping my father tend our backyard vegetable garden as a kid. I certainly didn't have a formal education in agriculture but gardening always felt instinctual. It was at The Edible Garden where I was able to hone my skills and shortly was promoted from volunteer to project manager. I always had a keen interest in growing heirloom vegetables and varieties of crops which felt more unusual and had a story behind them. I thought focusing on these would be a great way to teach kids that not all tomatoes are red, carrots come in a variety of colors and sizes, and lots of flowers can be eaten and not just admired from afar. These were all things I had discovered in my backyard garden as a kid and I wanted children in Chicago to share that same exciting experience.
Around this time, Instagram had debuted and I took to posting lots of images on my feed of the beautiful and unusual things we were growing. Green City Market also happens to be the market that most Chicago chefs and restaurateurs shop at and through my work at the garden, I had several chefs follow me on social media. Quickly, chefs began reaching out to me, describing a rooftop space they had and asking for help in setting up their own on-site garden. This is where my business took root.
My first client (Sandra Holl of Floriole Bakery and Cafe) was actually a vendor at the market, soon to be opening her brick and mortar, and I built a small, boutique herb and edible flower garden on the bakery's second story terrace. It's been eight seasons, and we are still growing beautiful edible flowers and herbs for Sandra's award winning pastry program. Since launching my company, Verdura, in 2010 I've worked with over 20 restaurant clients to design, build and tend on-site gardens and expanded into Nashville in 2016 where I am lucky to work with Bastion, Henrietta Red and Nicky's Coal Fired. I've also launched a residential division of my company here in Nashville, building backyard vegetable gardens for home owners.
RB: What do you do in the winter?
SG: Well, first I take some time off, but then I launch into planning for spring. You'd be surprised how quickly spring approaches and its always the most chaotic time of year for me, so I prefer to be as prepared as I possibly can! Our Chicago winters are colder and harsher than Nashville's, and so last season I did a bit of experimenting with year-round growing at Bastion. I outfitted our three beds, which sit outside chef Josh Habiger's kitchen door, with simple low hoops and insulating row cover and seeded for cold hardy specialty greens in December. Growth was very slow and we didn't get proper germination on everything, but come February, some of the crops like miner's lettuce began showing signs of life. By March, the kitchen was already harvesting from the beds. I'm planning on doing winter seeding for most of my Nashville clients this year given the success we had at Bastion.
RB: What's the process like for designing these boutique garden projects?
SG: The projects are all quite different and specific to the needs of each kitchen. At the start of each season, I'll sit with the chef or kitchen team and review my lengthy crop list of more traditional vegetables, specialty items, herbs, edible flowers, etc. Within each category (for example, basil) I'll have at least 10-15 varietals or cultivars. So at Bastion, we grow a small number of crops to maximize yield: African Blue basil, lemon verbena, begonia flowers, cranberry roselle and nasturtium. The garden at Nicky's Coal Fired is situated on their east and west patios and visible to patrons. Our garden at Henrietta Red is also on their patio. I designed the planters and beds for Nicky's and Henrietta incorporating both ornamental and edible vegetation, although most of the plants do have some sort of culinary use. Following the initial spring planting, I make follow up visits to each project re-seeding and re-planting as the season progresses, as all of our plants have a life span and we want to ensure the beds always look beautiful and continue to yield for the kitchen.
RB: I find culinary food trends super interesting. For example, I feel like a few years ago you couldn't go to a restaurant without seeing Brussels sprouts on the menu. What are your thoughts on this? Who/what informs these trends?
SG: Influence certainly comes via social media and ideas and information are constantly being exchanged, which allows my work to evolve and change at a rapid rate. I strategically follow certain gardening, farming, culinary and restaurant feeds from around the world to gather information, to participate in a dialogue and become inspired. I enjoy following along with The French Laundry's culinary gardener, Aaron Keefer, who runs their robust culinary garden program across the street from the world renowned restaurant, in Yountville, CA. Whenever I find myself in Napa, I make sure to pay him a visit. What an inspiring place.
On a more recent visit to Napa, I discovered tomato breeder Brad Gates of Wild Boar Farms and began incorporating his unusual tomato cultivars in my projects here in Nashville and in Chicago. I'm always in search of new varieties, paying close attention to flavor as well as appearance. Each season, I expand my crop list, focusing on things that might be difficult to source or come at a higher price point for the restaurant or just make a real impact on the plate. This research and discovery aspect of my job is what I enjoy the most.
RB: Would you say social media is an important part of the culinary world now?
SG: Truthfully I wouldn't have a successful business if it weren't for Instagram. In the early stages of my company, I was able to market myself, my crops, my projects visually through "snapshots" directly to chefs and restaurants. There's something to be said about the power of a photograph. You don't have to caption an image you post for it to be incredibly impactful. I've been so fortunate to have had many professional opportunities come to me by way of IG. I feel as if I'm part of a larger community of growers and culinary professionals from around the world, linked via this platform who communicate with each other on a daily basis sharing stories and knowledge.
RB: What's your garden at home look like? Since gardening is your work, are you tired of it when you get home?
SG: I hate to say it, I currently do not have a home garden because splitting my time between Nashville and Chicago has proven tricky for the tending a garden consistently. In the past however, my landlords have always allowed me to build a garden and I enjoyed the idea that when I moved, the garden was left, hopefully providing future tenants with a green space to cultivate and enjoy. I never tire of gardening at the end of a long work day, and I have missed it the last two seasons. A goal for next year is to have a garden in Nashville to call my own.
RB: Are the gardens you design in Chicago and Nashville much different?
SG: One of the main differences I've encountered is accessibility to space in Nashville versus in Chicago. In Chicago, my projects almost always end up on rooftops, as ground level space can be a bit scarce. Installing feels easier in Nashville as I can just pull up, load in off the street and rarely find myself hauling materials up stairs, into elevators or sometimes ascending a propped up ladder against a wall with 40 lb bags of soil (that happened in Chicago!) It's nice to pull up at Henrietta Red and unload directly on to their patio - the process feels so much more streamlined. I also enjoy that, because all of my Nashville projects are at ground level, the public can actually see and appreciate them. Often times when I am working at Nicky's Coal Fired (the west side patio shares its space with Frothy Monkey's patio) patrons of the coffee shop chat with me during morning visits, ask gardening questions, sometimes ask to sample something or wonder how chef Tony Galzin is using the vegetables and herbs for the pizzas and pastas at Nicky's. There's a genuine curiosity there and its nice that people get to interact with the projects.
RB: What's next for Verdura?
SG: I still plan to continue my work in Chicago and expand further into Nashville. I landed in Nashville in January of 2016 and felt an immediate connection to this incredible city and since that first drive down along 65, its become a very special place for me. I'm a Midwest girl at heart, but Nashville feels like home. I'm excited to see what's in store for Verdura in 2019, there are already new projects in the works down here! I'd love to build out more backyard gardens too. And fingers crossed, maybe I'll have a shot at building my own backyard garden once again.
Follow Gasbarra's projects on Instagram @saragasbara.